PROGRAMS:
Shows: the Seven Oaks Dressage Extravaganza
Dressage in Gilroy/San Juan Bautista
Seven Oaks Farm is one of the happiest dressage barns in California. Whether your dream is to win at the FEI levels of dressage or to have the best seat in the state, we provide a safe, friendly and motivating environment to help you achieve your goals.
We have dressage schoolmasters, school horses for beginners, and offer dressage training and horseback riding lessons. You can train on your horse, or take lessons on ours, to get the feel of a new movement or to borrow when your horse needs some time off.
As teachers, we want you and your horse (or our horse!) to be safe and happy. We assume that "happy" includes making progress in dressage, so we work you fairly hard. However, we never yell at you and we also assume that you are doing the best that you can do. The atmosphere at our barn is positive and encouraging; even the international-level riders remember that they were dressage beginners once and are as friendly as everyone else you will meet.
We require our students to wear SEI-ASTM approved hard hats with the 2007 or later safety standards, breeches, gloves, and riding boots (tall or paddock, the latter with half-chaps). If you don't currently have that equipment, we can loan you whatever you are missing for a few lessons. Most people take a trial lesson to see if they enjoy our style of training. For those who wish to continue, we offer 5-lesson packages and monthly training programs.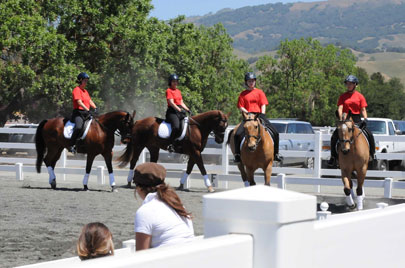 We offer full dressage training, partial training, and individual lessons. For most horses and riders, full and partial training consists primarily of lessons for you on your horse. Lessons can be private, semi-private or group (3-4 students). Lessons usually last 30 to 45 minutes.
DRESSAGE IN GILROY (SAN JUAN BAUTISTA)
We offer full dressage training and individual lessons on your horse or ours. For most riders, full training consists of a combination of schooling your horse and then giving you lessons on your horse. Individual lessons require you to trailer your horse to our facility or to schedule a lesson on one of our schoolmasters.