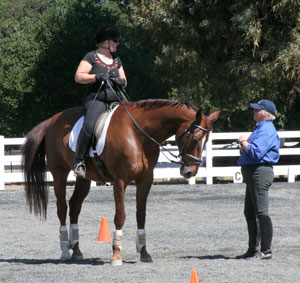 Interested in getting started with us? Here's details:
Please note: our program is designed primarily for riders who have enough experience to ride "off leash" and join small group lessons. No prior dressage experience is necessary. If you are a beginning horseperson, see our "Beginners" page. Please note: because of the high demand for our services, Seven Oaks Farm is only accepting minors as students at our San Juan Bautista location. Things do change, so feel free to check back in the future.
THE INTRODUCTORY LESSON
Every new student, regardless of horse or dressage experience, starts with one introductory lesson, which always takes place in San Juan Bautista. At that lesson, we ask you to perform some basic tasks that both demonstrate your physical fitness and ntroduce you to some dressage-specific concepts. If you cannot execute these basic tasks, we may not be able to mount you. If we cannot mount you at that first lesson, we will spend the lesson working on your fitness and coordination, then send you home with exercises that you can do. Once you're able to perform those exercises, you're welcome to return to us and start riding.
THE LESSON ITSELF FOR ADULTS WHO ARE EXPERIENCED HORSEPEOPLE
Lessons last 30-45 minutes. Please be sure to arrive 15-20 minutes before your lesson starts, so that you can groom and tack up your horse. Please also allow yourself 10-15 minutes after the lesson is over, to clean up your horse and wipe down your tack. Our group lessons are generally limited to 4 students.
ATTIRE
Everyone must wear an SEI-approved safety helmet, specific to horseback riding. Please note that the helmet must have been purchased within the past 5 years and be free from incidents. As well, please wear breeches, paddock boots & half-chaps or tall dress boots, and gloves. For your first few lessons, we can loan most of you a helmet and many of you paddock boots; you should wear long, comfortable pants and closed-toed shoes. Please also note: if we do not have a helmet that fits your head comfortably and safely, you will not be able to ride until you have a helmet of your own... click here for more information about attire
YOUR FITNESS LEVEL
Before your first lesson, we're going to ask you some questions about your body and your life: how old are you, how tall are you, how much do you weigh, what is your current exercise program, do you have any physical/mental issues that could make riding more difficult, etc. We ask them so that we can make sure that we have a horse that can carry you safely.
PAYING FOR THE FIRST LESSON/CANCELLING THE FIRST LESSON
We ask for a credit card to secure that first lesson. We have a 48-hour cancellation policy, with some exceptions: (1) if we have to cancel because of weather or other unforeseen circumstances, of course you don't have to pay and (2) if you are sick or there is another emergency, we may waive the 48-hour period and (3) if, at the time of the lesson itself, we feel that we cannot safely put you on a horse, you have the option to take a dismounted, horsemanship lesson or get a full refund.
LESSON PACKAGES
Seven Oaks Farm requires most students to ride at least twice a week, so that they stay fit enough to do justice to themselves and their horses. We offer monthly packages, that are designed to be for group lessons, although there is no extra charge if you end up in a private or semi-private by default. When you purchase a monthly package, you pay for an approximate number of lessons. Built into the price is the assumption that vacations, illness, bad weather, etc, will result in some missed lessons. As the per-lesson price is very low, we don't guarantee make-ups, although we'll do our best to reschedule missed lessons. Please see HERE for a more detailed explanation of makeup lessons and how our cancellation policy works. Prices for lessons vary and are subject to change without notice--see HERE for current pricing